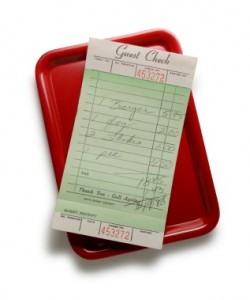 Last night I had a very unusual experience at a restaurant.  I wanted to let it go but of course it's the first thing I thought of when I awoke so I feel the need to share today.
My roommate from college, Jackie, my guy, Chris, and I went out for sushi at a restaurant Chris and I have frequented several times in the last year.  When we lived in the hell that is Herald Square (hell=tourists, noisy street and fire station down the street), this restaurant was our treat.  After we moved, we found ourselves retuning a few times for the delicious tower of spicy tuna wrapped in fresh avocado.  And as always, I digress.  Last night we enjoyed a lovely meal with our fair share of cocktails.  After 90 minutes of enjoyment, the check came and I wanted to treat.  I looked at the bill, figured out what the bill was without the tax, and determine that a 20% tip would be twice the amount of the first two digits of this bill.  I filled in the tip amount and gave the receipt to the waiter.  We finished up our conversation and then began to gather out things to leave.  It was in that split second that I realized I had mistakenly only left the 10% in my haste and shared my error with the table.  We collectively gathered the remaining 10% in cash and laid it on the table.
As we stood to exit, a man who was not one of our three waiters came to our table and before I could ask him to give the cash to our waiters, he said to me "Your tip was less than 10%."  I was flabbergasted, shocked and a bit embarrassed with his boldness.  First, it was not less than 10%.  You are not to tip on the tax, just the cost of of your meal and drinks.  So I tipped exactly 10%.  Second, if the waiter had approached the table and paused for a moment, he would have seen the additional money on the table.  Third, I am entitled to tip 10% if I thought the service was worthy of 10%.
I have never experienced anything like this in my life.  I was floored.  I need to consult my Emily Post Guide to Etiquette but I feel confident it is rude to point out to a table what one believes to be an inadequate tip.  A tip is based on service.  I waited tables all throughout college and always knew I had to work hard to get a tip.
Needless to say, we waon't be going back. And I am a great tipper!
xo–me
Tags:
etiquette
,
Manners
,
restuarant
,
tipping
Posted in
Delicious
,
Just Amy
,
Manners
|
1 Comment »