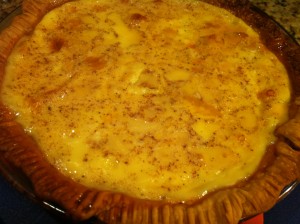 So last night I tried to burn down the house.  Not purposefully mind you.  It was just one of those things.
I decided since it was the new year, I should make an egg nog pie.  It seemed like the right time to try this pie that is one of the world's favorite new year's beverage.  I am not a huge fan of egg nog but the ingredients imply it's going to taste like a heavier custard pie with lots of nutmeg.  The man of the house also loves egg nog so I was game.
I rolled out the crust and baked it with no problems.  The challenge and 'burning down the house moment' came when I put the filling in the crust and returned it to the oven.  I was delicate when covering the edges of the pie crust for this second round of baking.  I was cautious walking from the counter to the open oven.  And then it happened, I touched the side of the oven door and jerked.  Guess what happened to the liquid egg nog filling of the pie?  It jerked too.  Or rather it jumped, just a bit, but enough to make a small mess on the bottom of the oven.  I did my best to clean it up but clearly the smoke monster from the island found it's way into my kitchen.
So the house smells like the place was on fire.  But not before I got a lovely pie from the oven.
Ingredients:
9-inch pie crust (Nany says the best recipe is on the back of the Crisco can)
3 eggs
14-oz. can sweetened condensed milk
1 1/4 c. hot water
1 tsp. vanilla extract
1/4 tsp. salt
1/8 tsp. nutmeg
Preheat oven to 425.  Bake pie crust for 8 minutes; remove from oven and set aside.  Whisk or whip remaining ingredients together, pour into crust and bake for 10 minutes.  Reduce heat to 350 and bake 25 additional minutes or until a knife inserted in the center removes clean.
I had to bake the pie for 10 additional minutes than the recipe called for because, as I say all the time, every oven is different.  The house still smells a little funky this morning but I am hoping once I cut this pie (yes pie for breakfast), it will make it all worth it.  Be good to yourself today!
xo–me
Tags:
dessert
,
pie
,
simple
Posted in
Baking
,
Delicious
|
No Comments »