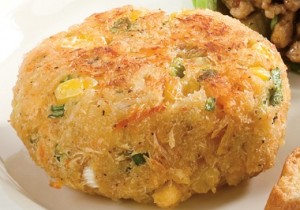 I make this recipe with shredded zucchini so I can enjoy it and live.  I am allergic to shellfish and consuming it would kill me.  My mother years ago shared with me a fake crab cake recipe that substituted crab for zucchini and it was delicious.  So now any time a recipe calls for crab, I just grab my mandolin and shred some zucchini to enjoy.
Many of you fry your crab cakes but I prefer baking them.  And guess what?  Your heart prefers them to be baked as well.
Ingredients:
1/2 c. whole kernel corn
1/4 c. chopped green onions
1/3 c. fat free mayo or Miracle Whip
1 Tbsp. taco seasoning mix
12 oz. fresh crabmeat
2 egg whites
2 Tbsp. water
1/2 c. dry bread crumbs
3 Tbsp. chunky salsa
Preheat oven to 450.  Line cookie sheet with waxed paper.  In medium bowl, mix corn, onions, mayo, taco seasoning and crabmeat.  Shape into 8 patties, using slightly less than 1/4 c. for each patty.  Place on cookie sheet and freeze for 15 minutes.
Spray another cookie sheet with cooking spray.  In shallow bowl, beat egg whites and water until blended.  In another bowl, place bread crumbs.  Dip each patty into egg mixture, coating both sides, then coat with bread crumbs.  Place on cookie sheet and bake for 15 minutes.  Flip patties and bake for 10 additional minutes or until golden brown.  Serve with salsa.
Two large zucchinis shredded make close to 12 oz. or 1 1/2 c.  Make sure you pat the zucchini with a paper towel to remove some of the excess moisture if you need to substitute for the crabmeat.  Enjoy!
xo–me
Tags:
fish
,
seafood
Posted in
Cooking
|
1 Comment »