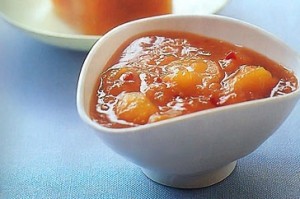 As most of you know, I love a snack with brie.  There are so many delicious recipes and I have my favorites on the site for you to enjoy.  Today I add yet another.  I love serving this on a cool, rainy night.
Ingredients:
1 round (15 ounces) brie
1 jar peach-zinfandel chutney
1/2 c. drained jarred or canned peaches
1/4 c. raw slivered almonds
crackers
Preheat oven to 350.  Line a pie pan with aluminum foil and coast with cooking spray.  Place the cheese in the pan. Top with the chutney, peaches and almonds.  Bake for 30 minutes or until chutney is bubbly.  Remove cheese to a pretty serving platter and spoon the sauce over the top.  Serve with crackers.
This is a great cocktail party addition as well as a quick snack for unexpected guests.  Let's all make one thing this weekend, shall we?
xo–me
Tags:
brie
,
cheese
,
hors d'oeuvres
,
peach
Posted in
Cooking
|
No Comments »