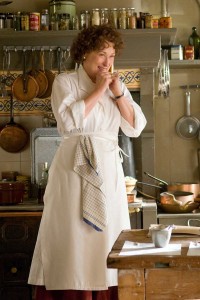 "The only real stumbling block is fear of failure. In cooking you've got to have a 'What the hell?' attitude."–Julia Child
Ingredients:
1/4 lb. sliced carrots (about 1 cup)
1/4 lb. sliced onions (about 1 cup)
2 Tbsp. butter and 1 Tbsp. oil, or 3 Tbsp. rendered ham fat
8 to 10-lb. cooked ham, skinned and trimmed of excess fat
6 parsley sprigs
1 bay leaf
6 peppercorns
1/2 tsp. thyme
3 whole cloves
4 c. white Burgundy wine (Chablis or Pouilly-fuisse) or 3 c. dry white vermouth
4 to 6 c. white or brown stock or canned beef bouillon
powdered sugar
Preheat oven to 325.  Saute the vegetables in butter and oil or ham fat for about 10 minutes in the roaster or casserole until they are tender and very lightly browned.
Place the ham over the vegetables, its fattiest side up, and add the rest of the ingredients (parsley, bay leaf, peppercorns, thyme, cloves, wine and stock).  Bring to the simmer on top of the stove, cover and place the roaster in the middle level of the preheated oven.  Regulate heat s liquid barely simmers for about 2 hours.  Baste every 20 minutes.  The ham is done when a trussing needle or sharp-pronged fork will pierce the thickets part of it fairly easily.
When the ham is done, drain it.  If you wish to glaze it, dust the top and sides with powdered sugar and place it on the rack in the roasting pan.  Heat oven to 450.  Place the ham in the upper third of the oven and let it brown lightly for 10 to 15 minutes.  Basting is not necessary.
Let the ham sit at room temperature for 20 to 30 minutes before carving.  If it is to wait longer, put it in the turned-off oven with door ajar where it can stay for an hour.  The braising liquid is turned into a sauce as follows:
Ingredients:
2 lbs. sliced fresh mushrooms
3 Tbsp. butter
1 Tbsp. oil
3 Tbsp. minced shallots or green onions
salt and pepper
the ham braising liquid
1/4 c. Marc de Bourgogne, Madeira, or port
4 Tbsp. flour mixed to a paste with 4 Tbsp. softened butter
2 to 3 c. whipping cream
Dry the mushrooms in a towel.  Saute them for 5 to 6 minutes in hot butter and oil until they are very lightly browned. Stir in the shallots or onions and saute for a minute more.  Season to taste and set aside.
Degrease the braising liquid in the roaster.  Set roaster over high heat and boil rapidly until liquid has reduced to about 3 c. and is full of flavor.  Add the marc or wine and simmer for a minute or two to evaporate the alcohol.  Strain into a saucepan and beat in the flour and butter paste.  Beat in 2 c. of cream then stir in the sauteed mushrooms.  Simmer for 5 minutes.  The sauce should be just thick enough to coat a spoon very lightly.  Stir in more cream if sauces seems too thick.  Taste carefully for seasoning, pour into a warmed sauce bowl and serve.
This recipe serves 16 6o 20 people so it's most likely best for a dinner party or a holiday meal.  Or if you LOVE ham, make it and have it every night for a week.
xo–me
Tags:
holiday
,
Julia Child
Posted in
Cooking
|
2 Comments »