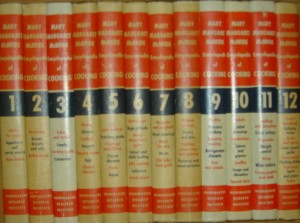 Vacation is officially over.  I am back to life, back to reality.
My trip was delightful with lots of great times with family and friends.  I ate delicious fresh peaches, corn on the cob, blueberries, watermelon and really enjoyed the fruits and vegetables of the season.  My mother spoiled me with a BBQ complete with fireworks.  She, Nany, Aunt Barb and I did tons of shopping at antique shops.  We also raided some of the greatest yard sales in the area and I found a 12 volume set of Mary Margaret McBride's Encyclopedia of Cooking printed in 1958.  Each volume is chock full of recipes and cooking/baking tips.  I cannot wait to begin trying the recipes so I am able to share their sure to be yummy goodness with you!
My trip was made complete with a visit with GMB!  She and I had a delightful time together reminiscing about Jr. High School.  She shared with me that every day after taking my sewing class, I would walk into her cooking class and ask "Well Miss B, what did you make today?"  Even then I wanted to cook and bake and learn.  We talked about how you can "knead away the stress of the day" when you walk into the kitchen and make a fresh pie or some bread.  Have you been in your kitchen today?
Posted in
Just Amy
|
No Comments »